8 Campervan Features to Make Your Build Standout
One of the most overwhelming parts of building a campervan is designing your layout and decor. You could spend hours, days or even weeks scrolling through instagram and Pinterest trying to find stylish and versatile ways to make your build one of a kind. When finished you want it to be a true expression of yourself but you also want it to stand out amongst the crowd. From pop up pantries to plant covered rear doors, this list is guaranteed to spark some creativity.
Bright colour schemes
One of the quickest and cheapest ways to express yourself in your build is paint! And if you're looking to achieve a jaw dropping design, brighter colours are usually the way to go! Elmer is the perfect example of this.
---
Pop up pantry
A question you may ask yourself during the conversion process is 'How can I make the most use of the space?' And it's features like this that are the answer. Pantries are a treasured staple in any home and Willow's owners found a clever way to introduce this into their build. Check out this blog for more space saving hacks. 
---
Pullout kitchen
One of the greatest elements of vanlife is the ability to be outdoors as much as possible. A pullout kitchen gives you the opportunity to take on a task usually done indoors, outdoors. It's also an incredibly social feature. If it's a beautiful summer day and all your friends are chatting and lounging around outside, you definitely don't want to leave them to go cook or make a drink inside. Check out Daisy's pullout kitchen in full here.
---
Triple bunk beds
Will you be travelling with mini explorers in tow? Then you'll love this! Frida's triple bunk layout not only makes bedtime fun for children but is also great for parents. You can tuck your little ones in and continue your evening without fear of disturbing them.
---
A clear theme
Elton is one of our most popular campers in our fleet and there is a reason for that. The owners of this camper decided on a theme and fully went for it, from flower power worktops right down to the crocheted cushions. Having a clear theme which transports you into a specific time or place is the truest form of escapism.
---
Rear doors filled with plants
Francois gives 'bringing the outside in' a whole new meaning! Not only would it give you an insight to what sleeping in a rainforest would be like, it also makes a unique and spectacular backdrop for your photos.
---
Reverse kitchen
Similarly to the pullout kitchen, this feature is a sociable layout option. If you plan on regularly hosting friends, being able to open up the backdoors and have counter space to serve snacks or pop the kettle on from outside is very handy. It's also a great utilisation of the space as van rear doors usually remain empty. E.g check out the wine holder seen here in Chateau Radical.
---
An epic cinema setup
Rainy days when living in a house will usually have you reaching for the remote and scrolling through netflix. Who says rainy days in a van have to be any different? Check out this impressive movie setup in Grey Goose. Don't forget to install an extra draw dedicated to popcorn.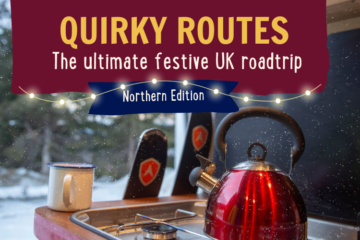 Are you a festive fiend or a grumpy Grinch? This season no matter what mood you're in, escape the normal and take yourself and …